Success Story: SOL Electronics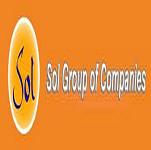 SOL is a specialist in wholesale telecommunications and provides an exceptional service on both a local and global scale. The Company has built a reputation from a foundation of mutual trust and respect amongst a growing number of suppliers and customers. SOL prides itself on its high quality and consistent level of customer service, a company that is always willing to go the extra mile and put a little extra effort in-order to obtain complete customer satisfaction.
Sol Electronics has been active on gsmExchange for almost six years now. It is one of the most highly regarded companies in the business; with some of the top ratings on gsmExchange; we wanted to find out more about the company and its origins.
Established in Tanzania as early as 1994 under the name Speed-O-Link, the birth of SOL Group providently coincided with the advent of mobile telephony in East Africa. As a natural progression from being a chain of retail stores selling mobile phones and accessories in East Africa, SOL Group today boasts headquarters in London, UK and a strong presence in several countries including UAE, Canada, Hong Kong, Singapore, India and USA.
Today, Sol Group has a significant turnover growth in 2010.Today they have around 200 employees working all around the world which help them to operate very competitively in Asia, Central and South America,Africa and Europe, where more and more opportunities are opening up.
Sol has managed to flourish and grow in this very competitive industry by using one simple formula: Treating their customers very well. Their word is their bond. They have never negated on any commitments. So, even if they have to lose on a deal, once committed to it, they will go ahead with it". They have significant amounts of cash at their disposal to cut deals. Sol Group intends to work more and more with carriers and capitalize on their strength in order to buy up surplus,and passing the cost saving onto their customers.
Block Promotion on gsmExchange
As for marketing, Sol has a straightforward, but effective approach: "Most of the advertising is done online, and most of this online marketing is done on gsmExchange.com". They have tried other online platforms, but nobody were as effective as gsmExchange. Miral who is one of the Sales Consultant expressed that "gsmExchange.com is ideal for our international exposure; we got a lot of new customers, from all around the world, by being present with our block on your site."What is great is that you guys ensure that all of your members are genuine, and reliable companies. I know that for all the contacts I am getting from gsmExchange.com, I can go ahead and do business with; no time wasters found here.
"Most of our advertising is done online, and most of this online marketing is done on gsmExchange.com .. we have tried other online platforms, but nobody even comes close."
"We obviously probed further, to find out his secret "It is simply a matter of making sure that the stock we carry is the right stock that is in demand, maintaining a wide range of inventory, all the while being extremely cautious, not to get caught out, with any slow moving inventory."
"What attracted us to advertising on gsmExchange.com is the immediate response we got from the very beginning. gsmExchange.com was able to produce numerous inquiries every day.."
Working with gsmExchange has introduced us to new buyers in new markets and helped us to remain close to our very good clients. I would recommend gsmExchange advertising to all of Our good friends in the business.